Zen
Details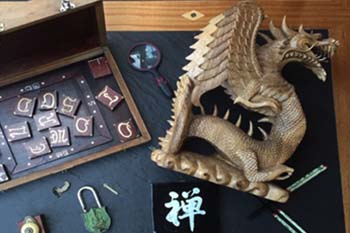 Book now
Prices (min: €60)
Total players
Adult
Teen **
2
€40
€40
3
€30
€28
4
€27
€25
5
€24
€22
6
€22
€21
* : Kids can only play with adults.
** : Teens from 12 to 15 have to play with at least one adult.
Description
The story takes place in the 19th century.
Mitsu, a beautiful japanese princess, will be married by her father, Kageki, to an old and noble gentleman against her will, because she is in love with a poor samouraï, Goshiro.
The wedding will take place in 1 hour and Goshiro has disappeared. Mitsu is in tears and doesn't know what to do.
Meanwhile the samrouaï has prepared everything to escape with Mitsu to America by boat. He told Mitsu's staff (you) about this plan and that they should meet in 1 and a ¼ at the market place.
Unfortunately her father heard about this too and locks Mitsu's staff in her room. So you, the staff, have 1 hour left to escape from the room and tell Mitsu about Goshiro's plan so that they can live a happy life ever after.